Video report about the event available here:https://www.youtube.com/watch?v=n_GYmWf7QtM&feature=youtu.be
This year we organized  an event even bigger than last year's on the European Researcher's Night. (2014.09.26.)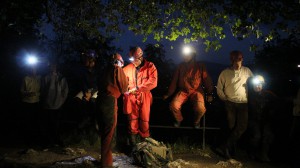 Az első turnus a bejáratnál
We selected "Solymári-ördöglyuk" (Devils cave in Solymár), instead of last year's "Szent Özséb" cave as the location, because of practical reasons: it is spacious enough, dry, clean, easily accessible, close to the public bus line, and the permitted daily visitor's number is fairly high.
We got the permission from the National Park Management for 100 visitors, but due to our equipment and personal restrictions we limited the places to 75.  As usual, all places had been filled shortly. In the end 56 person showed up, which is more or less the same ratio as we had last year.
For this 56 guests we organized 9 groups, with 3 guides, so each guide had 3 shifts. Fortunately nothing unexpected happened, we even didn't have any delay, which was quite a surprise for all of us. The home-made laptop computer battery powered lights worked well, and none of our guides got lost (at least not underground)…
The visitors were surprisingly well disciplined,  nobody dropped behind, or went forward. There were a lot of young people (including pretty girls), also couples with small children.
Maybe we organised the event  too fast paced, at least the visitors wanted to make longer trips. Unfortunately the time limit did not let that happen. Of course for the longer trips we needed much smaller groups.
The bulk of the groups made a trip to the end of Gipszes-folyosó (Gypsum corridor), only Miki (who knows this cave much better) took his group further inside.
We would like to thank all collaborators, the tour guides: Dolgos Miklós and Urbán Péter, and members of our group (Szent Özséb Caving Group) : Darics Dóri, Domahidy Farkas, Terebesi Noémi and Csilla, Juhász Imre.
For those who didn't make it this time, or wanted to visit the Devil's Cave again, we suggest to get in contact with Ifjúsági Barlangtúra és Barlangi Sportterápia (www.barlangtura.hu)
Invalid Displayed Gallery