In late june, with a small group of us we visited Rax, for seeing some real mountains to prevent idleness while we had to do wrecking at home all the time…
As usual, it was a really low-budget expedition, which means, we didnt had to pay for anything except the fuel and some toll. We've slept in our tents, ate our food brought from home, knowing the prizes of meal in Austria… To spend our time with hiking instead of getting stuck in traffic jam, the time of departure was at night both forth and back.
A pecularity was, that our vehicle was Igor, the UAZ. Inside Igor, it's a lot of space for all of us and our equipments, and it's (/his) consumption is lower than two cars'. Furthermore it has cut a serious dash, probably people here havent seen an UAZ since 1953, when the soviet army marched out of Austria. However, the route was trouble-free, either on the freeway, where Igor easily held the speed of larger trucks, even uphill.
We arrived to Kaiserbrunn at 1 past midnight, where at the "lagerplatz" was so many people, as at Debrecen in the refugee camp, tents everywhere, even on the roadside. In Kaiserbrunn is a campsite with wc, shower. Anyone can use this without any extra charges, and more important: noone will steal our goods and chattels.
At the first day, for warm-up, we visited a pike of Rax, the Preinerkreuz, on a really easy via ferrata route, only gaining 900m of alitude, but it was optimal, because at the first day, one's family came with us, and for the teenager girls, who took part in a this kind of hiking for the very first time, it would have been causeless to go through a harder route. Anyway, they kept up without any problem, and also we luckily got back to the camp when it started raining.
At day two, Grosses Höllental was the target. It was a glacier sometime, and the way up the sun was shining, but as we were half way up the via ferrata, a large cloud covered up the mountain, and it started to rain, so we got our daily shower at least…
On the go we saw so many alpine salamanders, we had to watch carefully not to step on them. When finally getting to the top, we could see something magical, as the cloud got up off the mountain, and Schneeberg slowly became visible on the opposite side… A really unique phenomenon appeared then; as the fog started to distribute, when turning our back to the Sun, a small rainbow appeared around our shadows. It held only for a few miments, but Farkas successfully took a shot.
While crossing the plateau, we saw so imposing dolines and sinkholes that I immediately felt need to start unwrapping them… But finally we only looked into some of them, because -maybe luckily- we haven't brought any headlamps. Our next stop was Alpengarten to see some mountain goats, which are everywhere, even on some via ferratas…
We something new: Edelweiss originally is not only a beer, and on the way down a beautiful view of the camp showed that the number of campers started to descend, making the place even more peaceful.
As the night came slowly, thousands of fireflies appeared to become enchanting candles of the night sky for our evening-bath in the creek. Unfortunately we left our camera stand at home, so no photos were taken of this magical lighting. The creek itself had sections with 3m depth so it was easy to find cuch places where we could jump off a cliff, just at the croatian beach. The only difference was only that the creek was cold. I mean really cold; about 5-7°C. Maybe could this be the reason, that there weren't any boards that swimming here is forbidden? We couldnt't find out…
3rd day, our route leaded to Prein an der Rax again, and this time we crossed the famous Haidsteigen to arrive our next stop, the Preinerkreuz, then headed to Heukuppe, through Bismarcksteig. Heukuppe is the highest peak of the Rax, whith its slightly more than 2000m above sea level. The dolines there are filled with snow even at summer. Today we had such beautiful weather, we decided to have a sun-bath on the peak.
At day four, Schneeberg was the goal to reach, and the starting point was Weichtalhaus. When reaching the top, a paraglider just took off from there, making me a bit envious, because the weather was perfect for soaring… Suddenly a dark cloud formed above us, and the paraglider disappeared in it… After that, jackdaws showed us their midair skills, then landed not far around us. Luckily they didnt see Hitchcock's movie, so they haven't decided to attack us.
Fortunately the large, dark cloud slowly disappeared, and no rain made our way harder…
The last day, a shorter, but much more difficult route waited us, a via ferrata to Königschusswandsteig. This was said to be D-difficulty level. We were excited, because the previous routes could have been performed even without any kind of equipments. At the approach, it was suspicious, that there weren't any slabs showing the direction, so first we thought, that this route does not exist anymore. After reaching a section, which had about 45°elevation, i thought it is time to turn back because lack of any signs, but suddenly we noticed the rope heading up.
Shortly helicopters appeared, and we thought that they are coming to save us, and then to fine us… But then it became clear, that they are don't care about us. (Later we found out, that there were an accident, not far from us, two czech climbers died. They may rest in peace. More information about the accident: http://www.thelocal.at/20150702/climbers-fall-to-their-death-on-rax-mountain)
Luckily our team got to the top without any issues.
After saying goodbye to Preinkreuz with some flute-music, and having a rest, we chose the shortest way down: a debris-covered slope.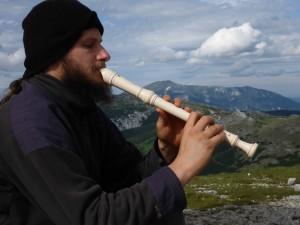 Arriving to the camp, and taking a final shower in the creek, Igor got the main role again, and 1 past midnight we finally got back to Hungary, after a physically tiring, but spiritually rather refreshing week.
Unfortunately the system divided the gallery into 6 separate pages, and will not shift automatically to the next one while browsing the pictures.
Invalid Displayed Gallery